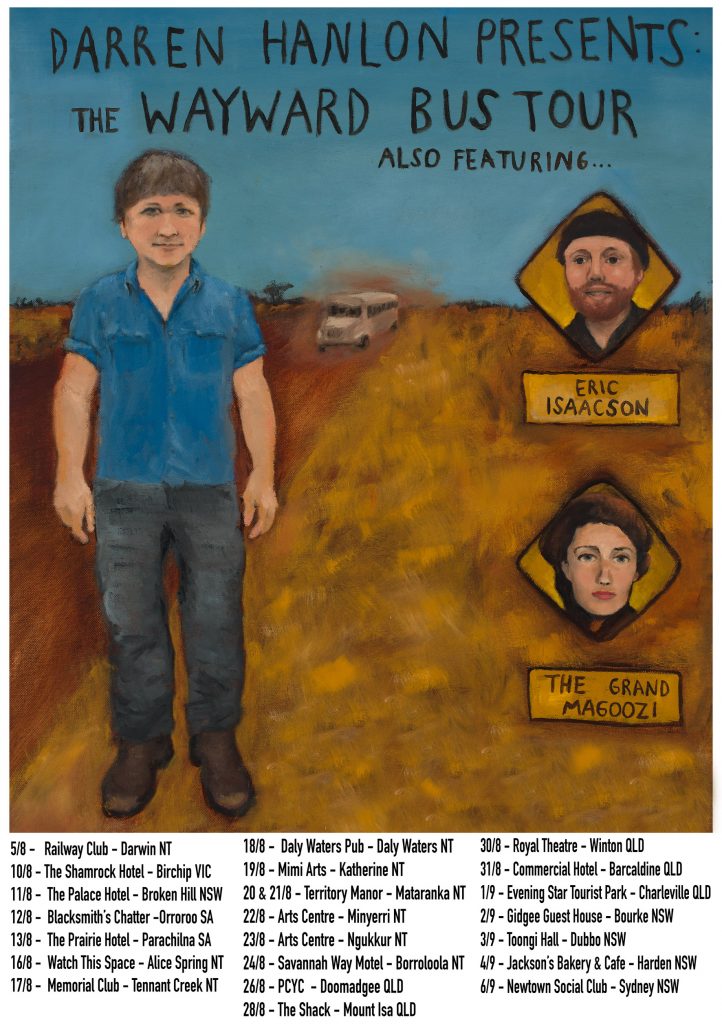 Early August I'm heading off for a lap of the Australian interior and dragging some friends along for the ride. Every tour I ever do I try and book at least one town where I've never played. For this one it's basically every show! Just planning something like this is an epic task. Trying to convince these little dots on the map that they should let me turn up and sing is a challenge. I got: "the guy who looks after bookings is on holidays, call back in November," and "we've already got a karaoke night on that date and people out here will only go out once a month," and, "the Birdsville races are on that same weekend (nb 1000 kms away) and we don't wanna compete," or simply "we don't like music." But I'm happy to say all the shows now confirmed are welcoming us with open arms and much enthusiasm.
I'm doing these shows basically as a duo – my friend Holly Thomas is coming along on drum duties… we met when she was playing in the wedding band in Broken Hill – though The Grand Magoozi are coming along too to open up each night so I'm sure there'll be some kind of all-in song session at the end of each night.
I'm very excited to be introducing you to Eric Isaacson who'll project 20 mins of films between acts. I've got to know Eric through my frequent visits to Portland OR and my enduring love of his record store and label Mississippi Records. I'm in there bugging him a LOT. A while back Eric was given access to the extensive film archive of legendary field recorder Alan Lomax. People think of Lomax as exclusively a sound recorder but there are countless hours of film and video he documented as well. Eric will project a collage of highlights he edited down out of 400 plus hours of footage, all stuff that's rare as!

So a lot of the show info we're still tweaking, and will update the tour page as news comes to hand. The ticket price fluctuates a bit, some shows are free, kids under 10 are free no matter what.
Here's what I know so far:
Friday 5th August
DARWIN, NT
Darwin Festival
Railway Club
9 – 10pm
Wednesday 10th August
BIRCHIP, VIC
The Shamrock Hotel
7pm
$20 on the door
Thursday 11th August
BROKEN HILL, NSW
The Palace Hotel
$10 – book through front office on (08) 8088 1699
Friday 12th August
ORROROO, SA
Blacksmith's Chatter
7pm
$18 presale, $20 on the door
Saturday 13th August
PARACHILNA, SA
The Prairie Hotel
7.30pm
Free show!
Tuesday 16th August
ALICE SPRINGS, NT
Watch This Space
5.30pm
$13 presale, $15 on the door
Wednesday 17th August
TENNANT CREEK, NT
Memorial Club
7.30pm
Free show!
Thursday 18th August
DALY WATERS, NT
Daly Waters Pub
Friday 19th August
KATHERINE, NT
Mimi Arts
6pm
BBQ
$23 presale, $25 on the door
TICKETS
Saturday 20th/Sunday 21st August
MATARANKA, NT
Territory Manor
Free all-star jam set!
Monday 22nd August
MINYERRI, NT
Minyerri Arts Centre
Tuesday 23rd August
NGUKKUR, NT
Ngukkur Arts Centre
Wednesday 24th August
BORROLOOLA, NT
Savannah Way Motel
Friday 26th August
DOOMADGEE, QLD
Doomadgee PCYC
Sunday 28th August
MT ISA, QLD
The Shack
1pm (early show!)
Tuesday 30th August
WINTON, QLD
Royal Theatre
6pm
Tickets on the door
$10 adults, $5 students, kids free
Wednesday 31st August
BARCALDINE, QLD
Commercial Hotel
7pm
Thursday 1st September
CHARLEVILLE, QLD
Evening Star Tourist Park
6pm
Free!
Friday 2nd September
BOURKE, NSW
Gidgee Guesthouse
Festival of a Thousand Stories
$20– book through venue on (02) 6870 1017
Saturday 3rd September
DUBBO, NSW
Toongi Hall
7pm
$13 presale, $15 on the door
TICKETS
Sunday 4th September
HARDEN, NSW
Jacksons Bakery & Cafe
$13 presale, $15 on the door
TICKETS
Tuesday 6th September
SYDNEY, NSW
Newtown Social Club
7pm doors
$25 + booking fee
TICKETS