Day 1. ARRIVAL
I'd told the driver of the Skybus at Auckland airport I'd like to get off in Mt Eden, but when 40 minutes into the trip we zoomed past a cluster of shop awnings bearing that very name I knew something was up.
"Sorry bro, I always forget that one! Ya shoulda said something," the driver apologised brightly.  I shoulder my belongings, curse them three times, and shuffle back down the street a few kilometers. Only a little while ago I was back-patting myself for smuggling 20kgs of old Blues/Folk LPs on the International flight from America as cabin baggage. There's a practiced art of making a great weight seem like a mere newspaper under your arm as you walk past the gate check.
Today my touring companion for the next couple of weeks Anthonie Tonnon has arranged for me to drop these superfluous belongings at his friend's bookshop. I'd already seen him in person for a coffee at 8am this morning when I got off the long-haul  flight. While I waited for him in the fluro green 'Sumo Salad' lounge in the Domestic terminal a stranger sitting next to me offered a piece of his sushi. It occurred to me that sushi is not something I'd ever accepted from a stranger, nor ever should I. It seems to have a potential for danger. But as I'd followed my rule of not eating aeroplane food for the last 12 hours I am famished, and so accept gratefully. The gifted sushi for this man is a trap; a gateway snack. A gateway into banal conversation about what I am doing here, where I am going.
Thankfully Anthonie turned up, looking as fresh and sharp as ever, before I have to expend too much non-existent mental energy. It was great to see him! We hug hello. I make a vow that I'll learn something about grooming and deportment off Anthonie over the next few weeks. The stranger offers him free sushi as well and Anthonie accepts without a second thought. "I'll try the salmon please." Kiwis are certainly very friendly and less suspicious than most other people I've met.
Anthonie left me to go board his flight to Christchurch where he'll pick up the car, he'll drive to meet me later in Dunedin. Our sushi benefactor vanished too, they're both on the same flight, leaving me with the half full tray of raw fish to pick at.
So right now, Time Out Books in Mt Eden: Anthonie's friend Jenna is at the counter and directs me up a narrow staircase and I stash my things under a table for safe keeping.  I have all morning to kill. I want to buy a classic NZ novel for the trip. I spot Man Alone by John Mulgan, someone had recommended it to me before. "A very important moment in NZ literature!" they'd said. I buy it and head over across the road to a barber she recommends.
In the chair with the neck crepe paper. Do the usual spiel: the same, but shorter, not squared off at the back like a Lego-man, try not to make my face look rounder than it actually is. He's Jordanian, and is very fast with the scissors, and in his spare time plays the 'oud.'  It's possibly the best cut I've had in a while, though all of them since Primary School a variation on the same theme.
Jetlag always feels like a fresh beginning, and so too does a new haircut. I strut up the street of Mt Eden with a renewed sense of well-being and an unusually lucid brain for 9am, a neater looking head and a vaguely itchy neck. So much optimism in fact I decide to climb the extinct volcano that looms over the suburb. A narrow slippery path climbs the grassy green slopes. Cicadas thrum loudly past me, lumbering from tree to tree like buses of the insect world.
Soon enough I'm at the peak taking in an expansive 360 view of Auckland: buildings and water, other green volcanic mounds in the distance. The gaping crater of the one I'm standing on is all grassed over, looking soft and begging for a sheet of cardboard and a gentle push. An old lady reads a plaque like it's a children's book to her husband who nods along. I'm in New Zealand!
Back at the airport waiting at the gate lounge I feel a wave of exhaustion wash over me and I set the alarm on my phone for a 15 minute power nap and set it down beside me, noting how the blue case is perfectly camouflaged with the carpet, and fall instantly into a deep sleep.
The sound of my name being called is suddenly a part of my dream and I spring up barely awake to be the last on board the plane and I leave my phone sitting there. I realise as soon as the cabin door closes.
In Dunedin Anthonie is magically there waiting for me and we load my gear into our tour's station wagon. The steering-wheel is wood-grained and Anthonie sits statesmanlike behind it. I suggest some driving gloves to complete the picture. We arrive at his family home in the suburb of Mosgiel amid blocks of modest 50s houses. His parents are waiting for us in the loungeroom with NZ wine and we chat languidly with kind horizontal afternoon light streaming in. It's easy to see the physical parts of his parents that mixed together to make Anthonie.
His Dad, beaming proudly, tells stories of his son's beginnings as a performer:
"We were in town one day…went shopping in a big mall. We were in the clothes section and Anthonie wanted to go across to the toy shop. He came back five minutes later saying, Dad can you buy me a hoola hoop? I said what do ya want a hula hoop for? He say he thinks he can make some money busking. I said who's gonna pay to see someone twirling a damn hula hoop? He says, I reckon they will! So it costs $12 and I tell him if he goes out the front now he can try and earn me back the $12."
Anthonie, looking slightly embarrassed, goes out to the kitchen to cut some special cheese he'd picked up on his drive today.
"He makes about seven or eight bucks right away! After that he was quite encouraged. We were surprised too to tell the truth. So now he wants to make a thing of it so we tell him we'll take him into town on friday night and we'll be just across the street keeping an eye on him. I mean he was only twelve at the time. We'd just stand over at the CD shop listening to music, making sure he didn't get into trouble. By the second week he'd bought anther hula hoop. He was twirling three by the third week.  Pretty soon he was on a skateboard with a Hacky Sack with five hula hoops twirling. They'd call him the Hula Hoop Boy, got on the front page of the paper. That was his introduction to entertaining people, it really gave him a thrill. He really had an entrepreneurial spirit from a young age."
Later that night after a roast dinner Anthonie's siblings waltz in, his younger brother Josh kindly offers me his bed to sleep in. He says he'll be fine on the couch.
"You might wanna put on some insect repellent," he says earnestly, "there's a few sand flies about."
"You mean in the bed?" I ask him.
"Yeah, you can't really see em but I've been waking up with little bites. They might bite your face too."
I opt out of the repellent but inspect the bed thoroughly, line the door gap with my towel and go to sleep with the sheet over my head.
Day 2. DUNEDIN
I awake and am thrilled to find my person bite-less. Anthonie has already been to the airport to collect Nadia Reid and I meet her in the kitchen for the first time. She's stylishly dressed too, in a neat black dress and boots. The three of us are joining forces for these shows and I can see I'm already letting the team (and my Country) down sartorially. Maybe it's growing up on a farm, I've always felt dressing up for me attracts unwarranted attention. I'm most comfortable in my King Gee workshirt with half the buttons missing.
This tour will be a kind of songwriters salon, we'll each play a 20min solo set of our own stuff  but then sing a few together as well. Anthonie has booked us rehearsal time in a room in the Dunedin College which lends an air of collegiate authenticity to our labours. This town is built on the most unlikely gradients. We park outside on a street so steep it would make any handbrake think twice.
In a dusty wooden room Nadia sets up and idly strums her guitar to get it sounding right and then segues into a gentle version of Dylan's Girl From the North Country. I play some lead breaks and harmonise with what words I remember. It's already a treat to sing with her, what a voice of such flawless elegance! It's decided that we'll do it in the set.
Anthonie suggests Leonard Cohen's Tower of Song for the closer each night, all three of us trading verses. I get a good one:
I was born like this, I had no choice
I was born with the gift of the golden voice
And 27 angels from the great beyond
Tied me to this table right here in the Tower of Song
I recall this is not the first time Leonard has been tied to a regular piece of household furniture in song. Everyone has their quirks. I substitute 'table' for other IKEA catalog items as we run through it a few more times but the joke wears thin.  I love the line "The rich have got the channels in the bedrooms of the poor." Bangers like this is why he hovers above everyone else.
A lunch break in an unbelievably well stocked organic cafe. I throw down a tub of grass fed goat yoghurt, a handful of activated almonds and possibly the best date, cardamon and rosewater muffin I've ever had. Nadia pours us dandelion tea. Half an hour into the meal I realise we're sitting in the renovated venue that I'd played the only other time I've been to Dunedin years ago with the East Brunswick All Girls Choir: the Arc Cafe.
"Yeah, Dunedin is going through a low ebb for music venues right now," says Anthonie, "And now Chicks is closing, that's the venue we're playing in a few days in Port Chalmers. Once that's gone there's really nowhere left."
Day 3. OAMARU
Nadia's mother Karin lives in a charming old cottage perched on a suburban hill overlooking the waters of Port Chalmers. Sitting out on the back deck with the washing on the line Anthonie points out the ring shape of the harbour, it is in fact another volcanic crater. To everyone's amusement he then puts on Skele-toes and goes for a jog.  Nadia snaps a photo and puts it straight online. From then on, being the true 'Digital Native' of our troupe, she's elected our Social Media Officer.
I'm told that Nadia's Mum is a great jazz singer and I wonder if she has inherited those mellifluous tones. I go get my guitar and ask Karin if she wants to sing a song with me. She gets her folder of sheet music. We choose the standard Autumn Leaves and she falls straight into it with a soulful velvet sweetness trailing off into a weeping vibrato. The next verse she switches to french, it's achingly beautiful. The notes drift off over the neighborhood and tiny sail boats list on the harbour below.
I go for a walk down the steep streets into town and find a secondhand bookshop open. Get into a chat about Man Alone with the seller and he tells me that Mulgan eventually killed himself on Anzac Day 1945, possibly at the thought of coming home to NZ after all that time away in Europe fighting the war. He recommends me a book about Mulgan and all his other NZ expat writer friends called Dance of the Peacock's, and then when he learns my name, another book by a famous NZ lawyer called Alfred Hanlon. He was renowned for representing murderers, including the only female to be hung over here called Minnie Dean (immortalised in song by NZ croon-smith Marlon Williams). He even has his own 1985 TV series called 'Hanlon'.
I settle for a first edition of  Scarecrow by Roland Hugh Morrison and go meet the guys for the drive to Oamaru. Just to top off my full NZ literature immersion therapy we go to have a peek in Janet Frame's childhood home, now a museum. A lady takes our money but only allows us in for 5 minutes before she closes up. I sit on JF's old lounge and listen to a recording of her voice talking about this very house, and the town. Her sister drowned in the towns baths a few miles away when Janet was only 13. I am most impressed by a tiny childhood diary, found under the house when they renovated, listing all her favourite poems at the time. We're ushered out and get the feeling the museum attendant is secretly living here in a back room, a few of her personal items have permeated the collection which is confusing. "I didn't know Janet Frame played the classical harp?" says Anthonie.
"Oh no, that's just mine," she admits.
Oamaru is the Steam Punk capital of the world and we're playing right in the center of their natural habitat, the Victorian Precinct. Their headquarters are housed in an old Grain Elevator Building and has a real up-ended train outside that shoots flame and steam.
We're playing tonight upstairs in the gallery of Donna Demente, a local artist who's a champion of all things Victorian Era.  She bounds out to meet us at the car, a ball of infectious energy dressed in what some might call a costume, but to her is a daily uniform. She leads us up the staircase. It's visually overwhelming, a massive space filled with paintings, sculptures and other contraptions. Her partner is casually setting up a gin still while we soundcheck. He lights a flame under a gizmo of circular copper pipes, bowls and fountains. In a perfect hand Donna is painting our names on wooden scrolls that'll get nailed to a gold-curtained tryptic we'll perform in front of.
People arrive and seat themselves in rows of wooden chairs like an old fashioned folk club. We're anxious to see how the show will run having only ever rehearsed the parts separately. After our few opening songs Anthonie explains to the crowd how we'll perform execute a game of Paper/Scissors/Rock to decide the running order or our solo performances. The first two winners will run their sets together, the ultimate loser must headline after a short break. Tonight this is me. I get to watch the other two while nerves bud in the pit of my stomach.
Tonight Anthonie is starting the tour a dashing figure in dress shorts, crisp button up white shirt, suit coat and brown buckled leather shoes. He's confidently climbing on chairs to sing his more soaring choruses. I'm worried he'll fall onto the gin still and catch fire. He's told me about some of his clumsy stage antics before. At the Big Sound Music Conference in Brisbane, with a room full of heavy-hitting industry moguls, he went to jump up and sing on what he thought was a table but in reality was a large cardboard box.
I help Nadia start her set with Girl From the North Country and then leave her to beguile the crowd. This is the first time I've seen her play so I sit up the back to take it in.
"Thanks for the hospitality," she shouts out to our host Donna in regards to our dinner platter, "I've just eaten my weight in cheese."
She's disarmingly goofy between songs but then when she starts singing she creates a whole other world and drags you into it. The fingerpicking and timbre of her voice nods to the time-honored pantheon of great universal folk singers, but the lyrics and stories are straight out of small town New Zealand. I note the way she holds her guitar, the neck pointing up at 45 degrees, as if she's about to starts dancing around the room with it.
I'm disappointed I missed the march of the Blue Penguins at sunset earlier. Some of them nest underneath the other famous venue in town, the Penguin Club. Donna and some others walk me down to the beach at midnight and we spot some
We're driven to our sleeping quarters, a 1800s cottage being renovated by Donna's partner, one of those places built in a time when architectural dimensions are askew, the doorways low and ceilings high. I climb a steep ladder to an appointed a room with sloped roof and dormer windows opening out.  They're in the process of building a staircase so at the foot of my bed there's a gaping hole that drops into the void of the loungeroom. The bed frame itself, designed by Donna, is an assemblage of turned timber columns and bits of driftwood, and at its head a sculpture of some kind of naked angel Medusa presiding over me. I wonder how she will affect my dreams.
"Will you be alright up there?" asks Nadia.
"I'll be fine," I assure her, "apparently the only ghost in the house haunts the back downstairs bedroom."
"Hey, that's mine!"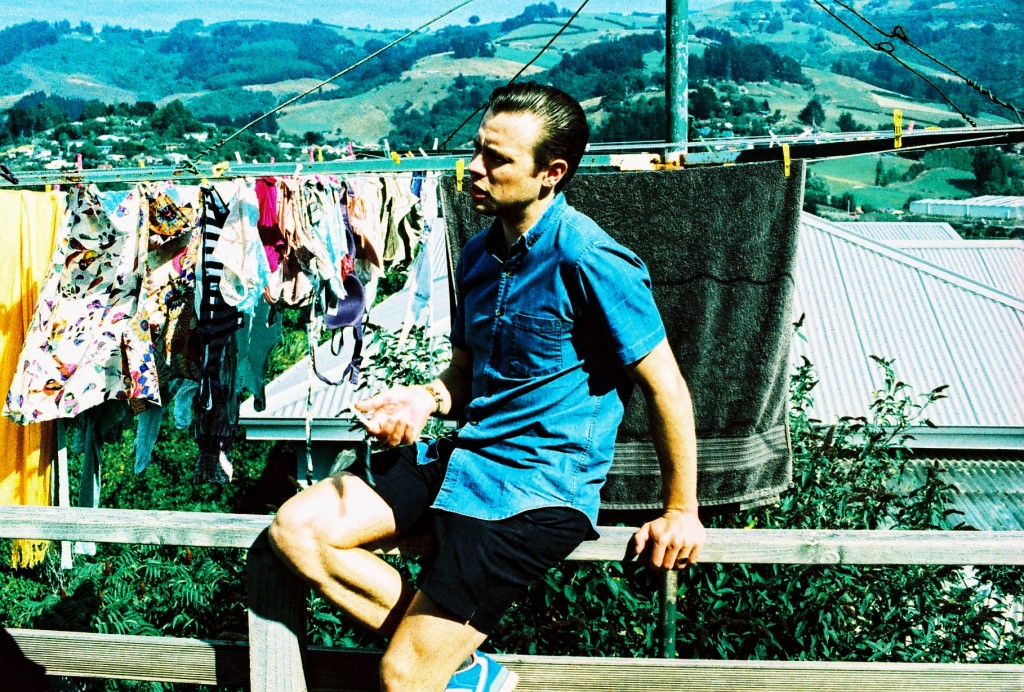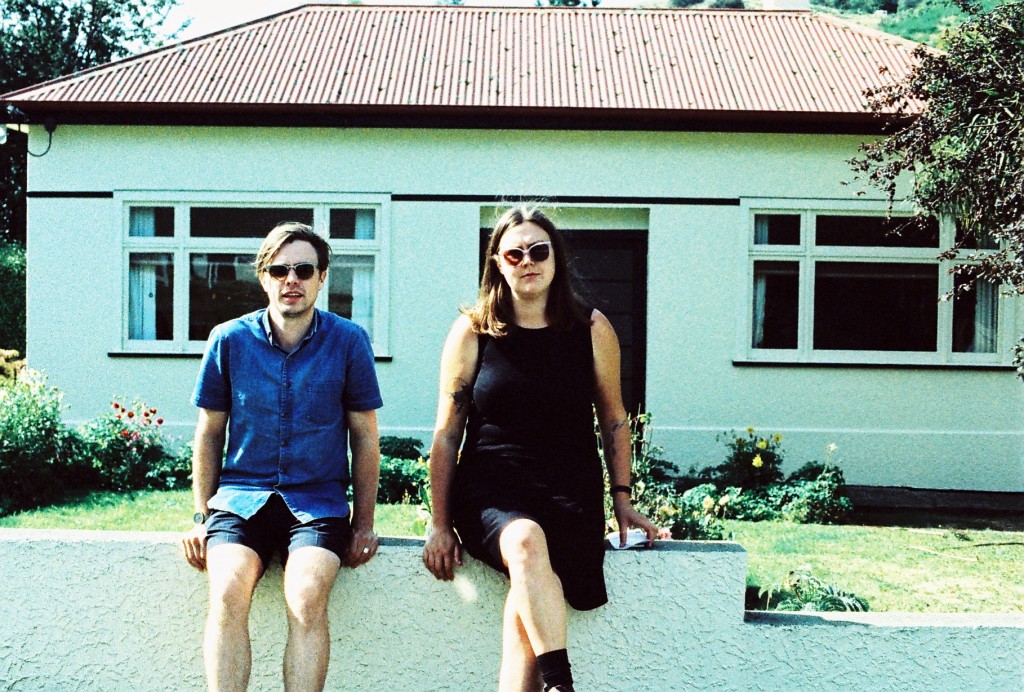 Day 4. PORT CHALMERS
I ask the waitress if they have yoghurt, and could I please have a little bit with my Earl Grey. We're at one of Anthonie's favourite on-tour eateries, The Riverstone Kitchen.  A dollop arrives in a little salt dish. We all munch away gazing across the gardens to an actual-size castle (moat included) the owners are building on their lands.
When I go to pay the lady makes a point of asking me what I did with the yoghurt.
"I ate it," I told her.
"On it's own?"
"Yeah, of course."
"Oh, we all thought you must mix it in your tea. That's what the waitress who took your order said. We thought you were a bit weird."
We drive back to Dunedin so Nadia can have coffee with her Dad, and for me, in lieu of a washing machine, to buy 5 new pairs of socks. On the drive out towards Port Chalmers I remark to Anthonie about the railway line that skirts the road and shore of the bay.
"Sadly we don't have a government who believe in trains," he tells me, "Often the left wing champion the trains and the right champion roads."
"That's a shame, this could be one of the world's great train journeys," I say.
"Anther reason is that NZ is still on narrow gauge. When the rest of the world switched over in the early 19th Century, NZ didn't. Which means that now our trains have to go really slow. Now it's too late now, it would cost billions."
The line disappears into a tunnel as we approach the town.
"Didn't Helen Clark wanna fix the trains?" I ask.
"She bought them back," he says, "they were on a privatising binge before her, they were just selling everything in the early 90s. They sold off all our assets, including the rail for dirt cheap. And the American company who got it, asset stripped it for 10 years. And then they sold it back to the Government for three times what they bought it for when Helen Clark came in."
"At least that's good they've got it again right?"
"Well she bought it just before they got voted out. And it was billions of dollars. Their plan was, if they got back in they would start rebuilding it. But National got in."
"Oh no!"
"But to get elected National had to promise they wouldn't sell it again, but they said look we're just not gonna do anything with it."
Chicks Hotel looks like a ye-olde stone English Inn. Anthonie sets up his gear on the stage to rehearse a bit so I spend the afternoon wandering the few streets that make up the town.  Go to the other old pub fronting the dock and read a fact sheet of its history tacked to the wall. The proprietress comes out and implores me, since I'm apparently a history buff, to buy their self-published book on the pubs story, "It's only $10 and a fantastic read! You'll love it." My keen interest in NZ literature sadly doesn't stretch this far, but I feel guilty and order red wine and a packet of chips and sit and chat to her. There's a little dog on the pool table chasing the balls. "So no book then?" she calls after me as I walk out. I should be employing her to sell my merch.
Up at the lookout is a good vantage over the shipping yards. These gigantic crane vehicles are moving the containers around like so many Lego blocks. Neat piles of lumber. I follow a steep path down the other side of the hill to the water. A young girl sits alone against the rock face of the cliff across from the train yards drawing in a sketch book, wearing huge headphones and looking like a Wes Anderson character. Solitary characters like her fill my mind with rich and interesting backstory and I want to ask her what she sees, but a single engine shunts out of the yard with two drivers chatting up front and I get the notion to hitch onto the back and see where it goes. I run up behind and chicken out at the last minute and then berate myself for an hour after.  25 year old me would not have thought twice.
During Paper/Rock/Scissors tonight Nadia pulls out a new shape, her hand palm up and fingers wiggling.
"In New Zealand we have fire too," she says and it gets a good laugh.
"You're really ganging up on paper," I say.
Still, again I lose the game and have to play last, but now I'm making mental notes of what the other two are doing. I've got a feeling Nadia is throwing the same result each night. Hmmmm.
The place is packed and I'm worried people will leave after the two local heroes. This venue has been important to the Dunedin community and it's an honor to be playing one of its last shows. Anthonie's parents are there too, proud as punch. And Donna Demente! Am feeling part of the NZ family already.
Tonight Anthonie and I are staying upstairs at the pub. He tells me that multiple bands stay in the same beds between laundry days. I go from room to room doing the sniff test and find the least offensive bed I'll be happy in. The window opens out on the street and I drift off to sleep to the sound of late industry at the shipping yards.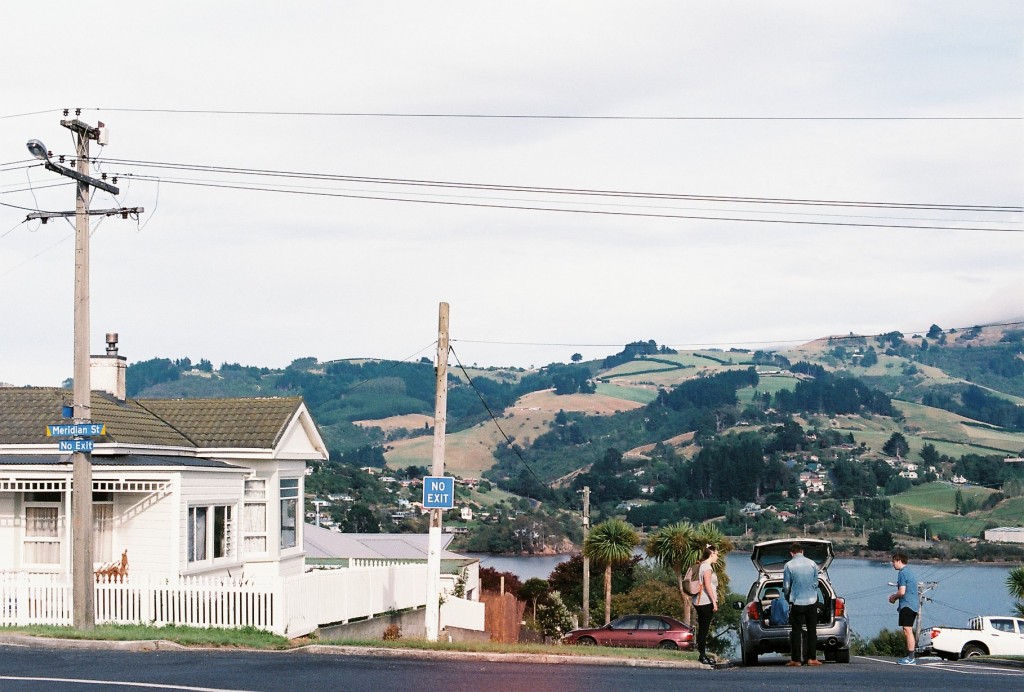 Day 5. CHRISTCHURCH
Wake sometime after 7am and feel a peace in my mind. A radio plays in a van parked across the road and a breeze blows on the grey sky. Anthonie has a hangover so terrible it doesn't quite match how sober he seemed before we went to bed.
We meet Nadia's Mum at the cafe in town for breakfast and then follow her up the windy road out of town to a fresh-water spring that trickles out of the mountain through a small pipe right by the narrow road. Nadia says their family has always stopped here since she was a kid. We fill our water bottles. I'm interested in what influences have pointed Nadia on her musical trajectory. I know she's been close with another young NZ folk singer who goes by the stage name of Aldous Harding.
"Hannah and I have known each other since we were six years old. Our mothers met at clown school. Then later we reconnected at a folk festival when we were fifteen or so and we must've remembered each other. I'm not sure how it happened but we went into a forest and she sang me a song, and then she asked me to sing her a song on guitar. I played her 4 Non Blondes What's Up cause I was learning that. She said to me, you've got the most beautiful voice I've ever heard," Nadia pauses deep in memory, staring out over the beach we're passing, "That was the first person who'd ever said that to me."
I'm seriously loving the Man Alone book so far. It's mainly about this pretty detached guy wandering around NZ looking for work in the Depression era. It sounds bleak but I'm getting some kind of joy out of it. Reminds me of Bound for Glory in a way, although there's none the humor and optimism in the face of great adversity that comes from Woody Guthrie's pen, but there's still a heady sense of freedom and travel. Lot's of landscape description and I dog-ear the pages to cross-reference with a map later.
Tonight we're at Gustavs in Christchurch. There are two guys in the car park riding way up in the air on modified novelty bicycles as tall as Penny Farthings. One of them, this obviously being his first time cries out, "Oh my God! Oh my God! This is amazing! Oh God!" I wait to see how they dismount but they just keep going up and down the carpark in wide circles. "Oh my Godddd!"
None of us want to play last. I lose again! How is this possible? Anthonie has started doing some stage banter about my yoghurt obsession. It's very funny, especially hearing my voice in a high pitched kiwi accent. He's also been doing some new songs, one of them Two Free Hands stands out for it's stark simplicity. He keeps the drum machine going for the outro and does an angular running man slow-mo dance across the stage. The crowd cheers for this bit.
After the show there's talk of us staying in a house in Lyttelton, though there's only two beds. Some strangers nearby overhear this and offer me a room at their place. They're an Australian couple and seem nice so I accept, and next thing I'm heading to another suburb in a taxi. The guy keeps replying to things I say with, "You can take the boy out of Gympie." They tell me they're planning to leave Christchurch soon to return home, the random earth tremors are giving them the heebie jeebies. At the flat they give me vague evacuation plans over a lovely Islay single malt. In the event, I must jump over the balcony.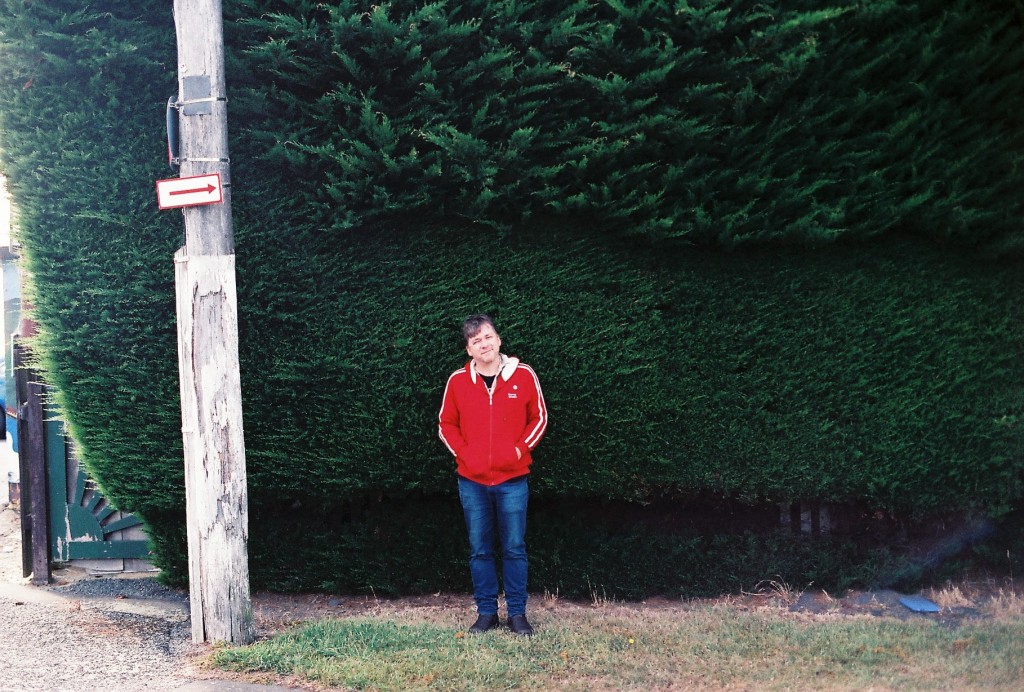 Day 6. OKARITO
My host wakes me and whispers, "Your friends called. They want you at the cafe in Lyttelton at 9.30."
"Cool, thanks," I croak, "what time is it now?"
"9.45"
I leap up and shower and my generous patrons drive me to a cafe downtown, it's been decided I'll be picked up here instead. I'm overjoyed to find a Monster Bash pinball machine, but completely crestfallen to read a poster advertising the annual NZ pinball championships the night of our Nelson show. As we drive out of town I ask Anthonie about the possibility of chartering a Fox Glacier chopper for a day.
Still all these years later downtown Christchurch still bears the wounds of the quake; large swathes of empty ground give the surviving buildings a lonely aspect. Nadia says she actually experienced the earthquake firsthand.
"Really?!" I wanna know the story but step cautiously in case it's a trauma for her, "were you here in town?"
"I was working in the city in a cafe… it was just like… a great big fuckin shake. You know when you fall off your bike when you're going really fast and for a moment in time everything kinda slows? And it feels like a dream or something? Everyone in the cafe fell over but no one there was really hurt. I found my flatmate who was working downtown and it took us 6 hours to get back to our house. We got in the car and it was all gridlocked. Total war-zone. We ended up walking in this sludge over our knees as it was getting darker. Liquefaction they call it. Christchurch is basically built on swamp, so all of this seweragey, muddy water came up. It was just bizarre."
"I was in Auckland," recalls Anthonie, "and remember it was such a beautiful, clear blue morning. I went swimming in the harbour and it was unusually calm. When I got home and saw the news the sky seemed to change right away and the rain came. I felt a lot of guilt cause that morning I'd spent doing Facebook admin.  Guilty seeing all that wreckage and the relevancy of my shitty news update."
"But there was a really great camaraderie that came after it happened especially in the music community," Nadia says, "Music became like a total coping mechanism for everyone. There was a lot of house concerts and my friend opened up a little Speakeasy in his house and hosted gigs for a couple of months. It made us all come together a lot tighter."
We stop at Arthur's Pass village for snacks and hope to spot the colourful Kea parrot, named affectionately after a fleet of camper vans. When we go to leave and our car is surrounded by Germans tourists we realise there's one on our car. Cross the inconceivable mountain range and turn south for a couple of hours and then take a right off the main highway onto a leafy narrow road. Spiders have sown hundreds of little compact web pods which make the foliage seem like cotton bushes.
A drizzling rain shrouds the small coastal town of Okarito. The grey and churning Tasman Sea pounds the shoreline just beyond some grassy bluffs. We park outside our venue, Donovan's Store, a quaint wooden community hall which has a capacity of 40 people, which is handy because the town population is 43. Photographs of each resident adorn the walls, one of them being Keri Hulme (author of Booker winner The Bone People) who I'm sad to learn has moved to the east coast. But I'm excited that we'll be singing unplugged tonight, my favourite way.
As we load in, the guys are complaining of sand fly bites. "They don't seem to affect me,"  I boast as we walk up to the house for dinner. Our promoters also run the kayak rental place and their young staff eat with us too. I ask one of them if they'll be at the show later. "Oh yeah," she says in thick accent, "I wouldn't miss an Okarito shin dig!" (which sounds to me like 'I wouldint muss in Okarito shun dug')
Nadia suggests match fixing our game tonight. "I don't wanna go last," she pouts.
"No way," I say, "That's illegal. I've had to go last every other night."
But somehow I screw up and lose once again and I'm suspecting conspiracy. Though I'm sure I have Nadia pegged now, she definitely does the same thing every night. Next gig she's history.
During the first song of my set I see a sand fly land on the back of my arm, right in front of me. I can feel it's bite as it lodges itself. I wanna squish the little bugger but in a feat of shear brave professionalism I finish the song first. For the rest of the set, whether they do or not, I can feel them crawl all over my face and keep scratching it mid-song forgetting all stagecraft.
As Anthonie and I drift off to sleep later that night on single mattresses in a holiday rental shack he says, "It's a shame to have to kill sand flies. What they're doing is actually collecting blood to go feed their young."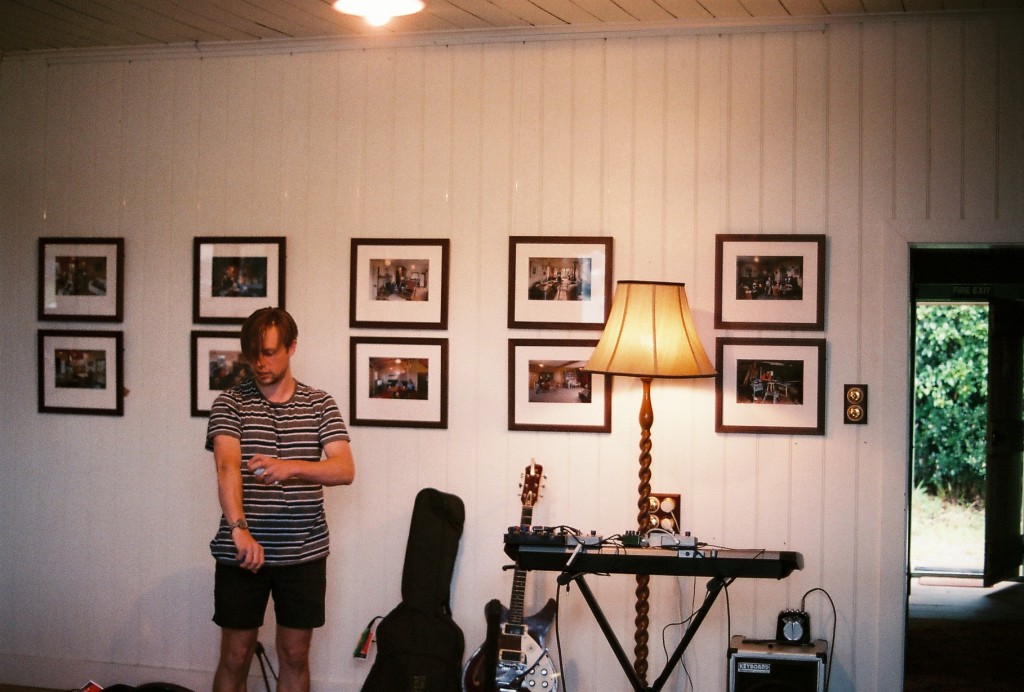 Day 7. (DAY OFF) OKARITO

I awake to see a hand reach inside the door beside me and pull back the curtain. Next thing a breakfast tray appears, stocked with cereal, fruit and a giant tub of homemade yoghurt.
"You'll be hungry when ya get up," says our lovely host/promoter.
We're really getting spoiled here. My feet and arms itch everywhere with sand fly bites.
It's our day off so Nadia and I decide to take the kayaks out on the Lake. Although it seems wide and goes on further than we can see, there's only a thin channel that's navigable where the current cuts a deeper path through. To find it you look for a lighter aqua blue. We're told to look out for the local white heron, which arrived here from Australia on a strong wind and could never find a way to return. He sits on a stump in the middle eyeing us.
We find the creek and slowly drift up and as it gets narrower the foliage and vines darken the sky and hang right over us.
"I don't know about this," says Nadia.
On the way back, out on the lake again, she goes off course as I steam ahead. I hear her call out and look back to see her stuck on a sand bank in the middle of the lake, cursing, paddling wildly like a mudskipper but not moving.
"I'll see you when the tide comes back in," I call back to her, "do you want us to save you some dinner?"
She's really not amused and ends up just getting out of the kayak and dragging it back to the stream. From where I'm sitting she looks like an angry Messiah, stomping on the water.
I wait for her and we race the last bit home. She won't get out at the shore as she sees crabs scuttling in the mud. They terrify her she says. I'm not sure if she's making it up to get me back, but I drag her still sitting in the kayak all the way in anyway.
Day 8. BARRYTOWN
There's been some pessimism surrounding the show tonight at the Barrytown Hall given the sale of only one ticket to a person called 'Tree'.
"Maybe we should cancel?" suggests Nadia, but Anthonie assures her it'll be fine.
"Trust me they'll come out," he says, "That's just the way it works around here. It's very different from everywhere else in the country. It's mainly the same people who came out here in the early 70s seeking an alternative lifestyle. They've held on. The 60s Summer of Love thing hit NZ five years late."
Wild and bushy Jurassic looking mountains slope down dramatically to meet the sea. It's hard to believe there's any road down there. It makes the Great Ocean Road in Victoria like a poor cousin. Barefoot and with head lice. Are they keeping this a secret?
And so too when we arrive in Barrytown the scenery is astonishing. Hardly a town, the old wooden hall has a sweeping view down across plush dairy farms to the ever-raging Tasman. I'm told this venue is hallowed ground for some, and you can trace it's history in the form of old band posters that wallpaper the wooden shutters that bolster the windows from the coastal winds. Bad Manners, Shellac, UK Subs, Fugazi, and I'm told when the Bats played here in 1988 a motor bike gang rode in to achieve a few expert burnouts before tearing out again.
I'm mostly surprised to find a poster of Portland cult punk band Dead Moon, a band I'm yet to see play, but desperately want to. They've been here?!  I take a photo to send to my friend Eric Issacson who puts out their albums on his label Mississippi Records. Anthonie claps and says, "Hear that? It sounds like 80s gated reverb."
I go for a walk down a couple of miles down the road to dip my toe in the ocean, through pastures of curious cows.  I stop to look back at the mountains every now and then.  Nadia drives down to pick me up and we head up the road to see the touristy Pancake Rocks and the Blow Hole.
"Did you an Anthonie plan that your album covers be almost identical?" I ask her.
"No!" she says, "It's pretty weird though isn't it?"
"You're both looking off at the same thing in the middle distance."
"Do you think my album cover gives you an idea of what I'm like?" she asks me.
"Well, it's certainly evocative," I say, "I guess I'd have to say I had a different impression of you before we met."
"Like I'm in a Christian Cult or something?"
It's on the drive back we decide to cancel tonight's accommodation booked an hour up the road and just try our luck with the locals. We don't want to miss any of this scenery to the nighttime.
And we needn't have worried about the turnout. There are cars parked everywhere, a line out the hall, and Anthonie panicking at the door, fumbling change and stamping wrists. Locals are spread out everywhere on couches, kids are up on the stage miming songs and air-guitaring. A pop-up taco stall and bar is in full operation.
I can tell by the reaction off the first song it's gonna be a good night. The locals are whooping and yahooing. We go to do the Paper/Rock/Scissors thing and I've got Nadia in my sites. We explain the process to the audience once again .
"How many shakes before the reveal again?" I ask.
"Three shakes and then reveal," says Anthonie.
"In Australia we do 15. It's cause we're all dairy farmers," I joke, and mime the closed-fist shake as if milking a cow.
"That's one way of saying it!!" heckles a local up the back.
A very big laugh, including all of us on stage.
I win the game! Nadia looks confused and worried.
After we do our opening song All These Little Words by the Magnetic Fields I'm allowed to go first and relish the task. I love playing for the people of Barrytown, it feels like this is my true tribe in NZ, they're right there with me, rambunctious, attentive and continue heckling throughout.
In the break I stand in the kitchen with the organisers and share a wine. I chat with Roger the rakish Chairman of the hall who's been running the place since the 60s. He has long wavy grey hair, a chambray workshirt open at the neck to reveal a silver abalone amulet on a leather lace, purple suede slacks and bare feet.  I ask him about the rumour of Townes Van Zandt having played here.
"Oh yes," he tells me in a baritone drawl, "but it was in the dead of winter and Townes thought this hall too cold for him. We didn't have heaters back then. So we said we'll just go and light the fire up in the pub and do it there. He said yeah, that'd be better. We had a huge crowd turn up and he ended up staying around for a few days."
Nadia plays as dreamy a set as ever and I sink into a couch drift away on it. She prologues a song with,"this is one I wrote when I grew tired of changing people's names to protect them."
And then the first line is:
Richard loved the sound of his own voice…
Never date a songwriter. At the end of her set she mentions that we're trying to find a bed in town tonight. All of us back on stage for Tower of Song, Anthonie steps on a foot-controlled smoke machine that just happens to be there for added drama.
After we're done a drunk guy comes up to me at the merch desk and offers a room over at the disused pub where Townes played. He's turning it into a backpackers. I gratefully accept.
"I'll have it all set up for yas," he mumbles and back shuffles off to the bar for another tinnie.
As things are winding down Anthonie goes across the road with Nadia and comes back looking slightly perturbed.
"It's the room," he says, "Nadia's one was all made up, but ours is not quite."
I go over to see for myself. Musty wet carpet and a bare mattress and pillows bearing tea-cup stains. There's sheets and blankets but they're strewn around the floor, supposedly left by the previous occupants.
I find the owner back up in the main part of the old pub. He's drinking with a few others I don't recognise. His dog lifts its head off the floor and growls at me.
"Sorry to bug yas. I think there's been a mixup with the rooms," I try to sound assertive.
"Who the fuck are you?" he says.
"I just played in the hall. I talked to you an hour ago."
"That was you?"
"Yep."
"So what's the problem?"
"Well, one room was fully made up but the other wasn't," I tell him.
He drains the rest of his drink and gets up off the stood, tripping over the dog.
"Let's go and have a look," he says and I follow him out through the back and down to the cabins.
I point to the room where Nadia is sleeping, then flick the switch on in ours.
We both eye its chaos and then face each other.
"Well?" He says, "It's all there. You can make something outta that can't ya?"
"I don't wanna sound rude mate. But it's a bit smelly."
"Fussy bastard. That's a virtually new mattress, I dragged it down here last week."
And with that he was off. Before he shut the back door he called back down, "I want a coupla CDs too!"
Anthonie and I grab the cleanest looking Manchester from the floor and drag it back over to the hall. We choose a couch each and fashion nests. I walk around on the creaky boards and turn all the lights off and wrestle my body into a position of comfort. This feels like a great thing, sleeping here in this big old room full of the histories of nights spent dancing, singing and carousing. Anthonie and I chat back and forth for a while like we're at a school slumber party. I can hear the sea too. I drift off to sleep with a feeling of well being.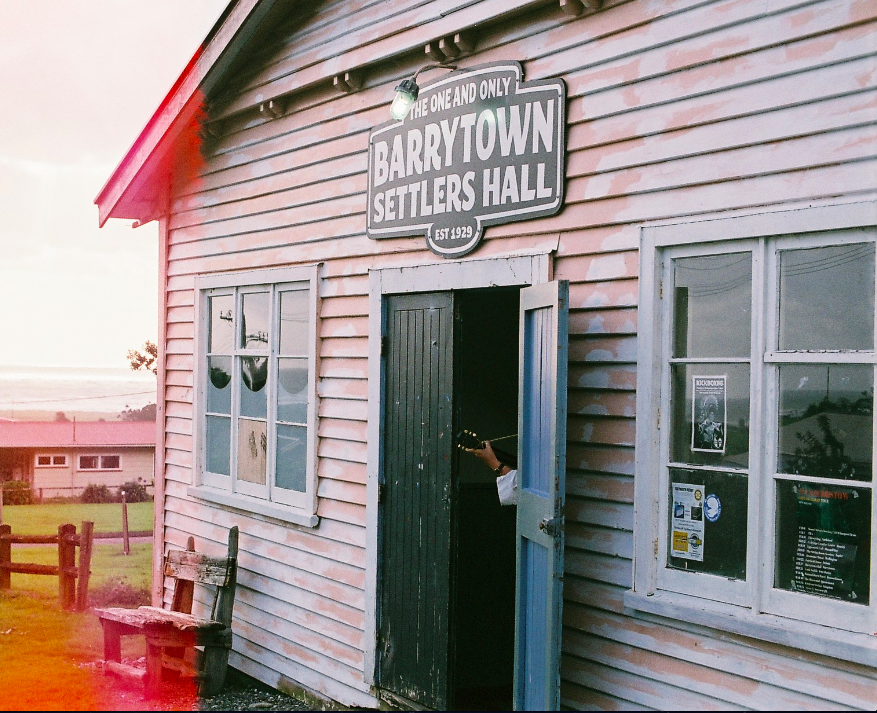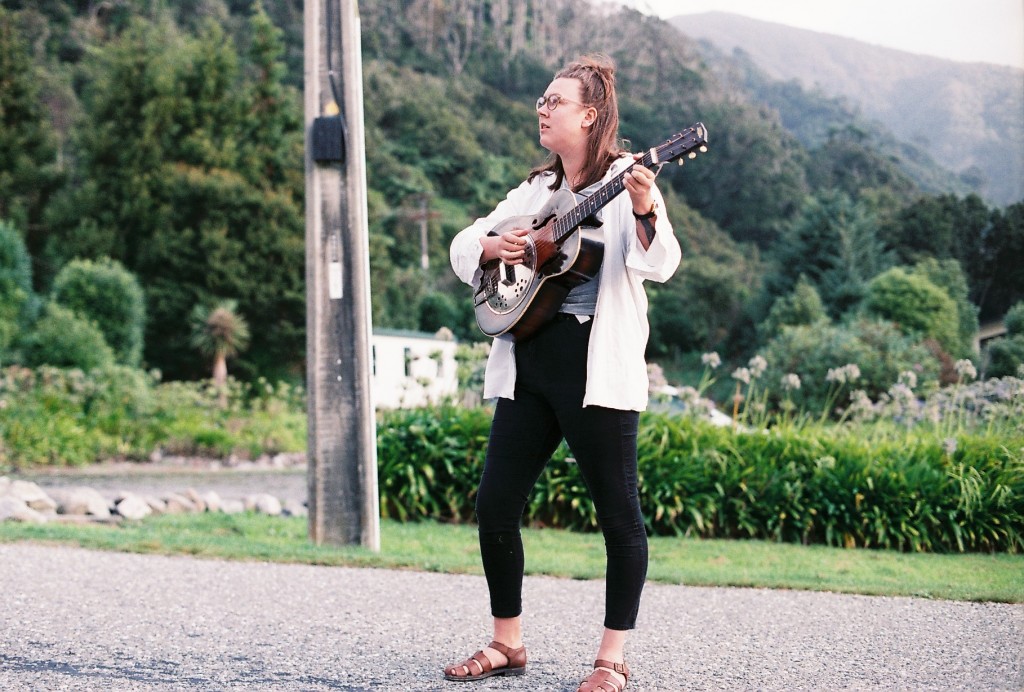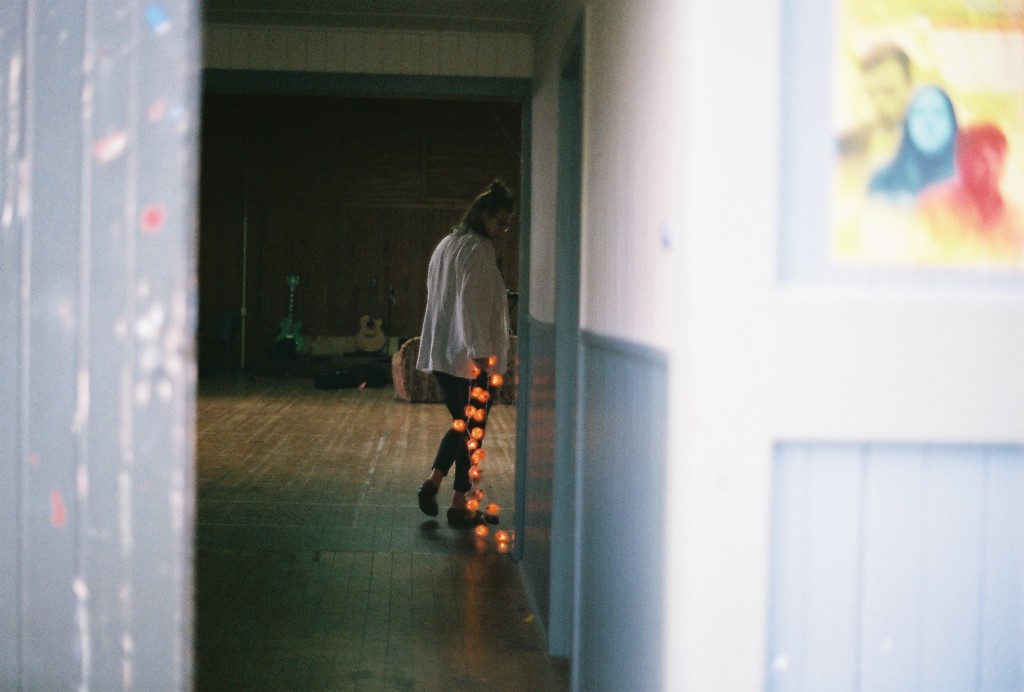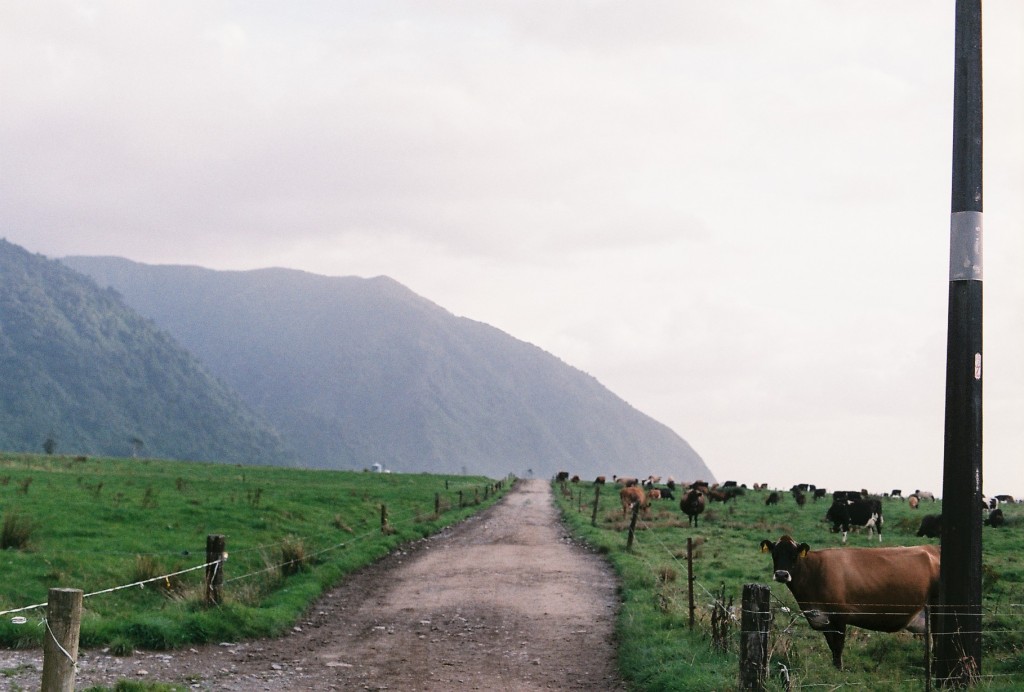 Day 9. ONEKAKA
I hear the ocean roar a mile down the road. Anthonie is up and throwing open the wooden shutters, lending the room some bright morning light.  It seems Nadia survived too, but felt abandoned by us.
"Someone tried my doorknob in the night," she says, "Was it you?"
"No," I confess, "But just so it's on the record Anthonie felt bad about leaving you over there, I was the one who talked him out of it."
"Thanks a lot."
"I knew you're tough enough."
We wind along the magnificent coastline where the holiday baches sit below us almost on the water. The road turns eastward following a river. I'm running some tourist ideas past Nadia for when she visits in a few months.
"I don't like the milk in Australia, it tastes pretty rank to me," she says from the front seat.
"What do you mean?!" I wanna know what she means.
"You've got rank milk."
"What the hell!? No we don't!"
"It just doesn't taste fresh. New Zealand does good milk. Fresh. Creamy."
"Is it because its watery, or it's the flavour?"
"Horrible flavour," she says.
"We milk cows just like you do. Does the rankness come from the cow or the grass?!"
"Could be the grass. Or maybe there's too much time before bottling. I like minimum time between teat and tummy."
Speaking of milk, Man Alone has switched gears and has now become a Dairy Farm Action Novel. Just my genre. I can't put it down and would rather risk car-sickness than stop reading.
We pull over for a few minutes above a river to stretch our legs. Anthonie, in a display National Pride, starts picking up other peoples rubbish along the verge. Nadia and I buckle up and are sitting waiting for him when from out behind the car we hear a gut-wrenching yelp and wail. My first thought is he's been shot. Second thought was it was possibly a huge sand fly bite but it sounds too serious for that. For a moment I'm paralysed, unsure what to do. But Nadia is out of the car and on the case. We find Anthonie writhing on his back in the gravel beside the road holding his head in his hands, tears in his eyes. Nadia takes control and tells him not to move, just lie still she says. Any minute I expect to see rivulets of blood seep through his fingers.
"Are you right mate?" is my attempt at assistance, I hate seeing him like this.
"I conked myself," he cries, "on the car door."
Seems that knowing we were in a rush he ran with a handful of rubbish straight into a sharp point on the hatch and knocked himself clean off his feet. What kind of reverse karma is that for NZ's number one Good Samaritan? Thankfully there's no blood, just a huge egg forming on his forehead. Nadia, helps him back to the car and instructs him to drink lots of water and try not to sleep in case of concussion.
"You silly duffer," she says affectionately.
"I properly clothes-lined myself," he says in a daze.
Up and over the modestly named Takaka Hill. At a lookout from its peak it feels like we're looking down from an aeroplane.
Tonight's show: Mussel Inn, highly sought after by the bands of NZ by all accounts. It's a brewery, winery and restaurant housed in what looks like an old farm house. There's a power pole with an array of mobile phones nailed to it, with a sign that reads "Get the message?!!!"
The owners Jane and Andrew built the whole place by hand, including the huge log cabin we're sleeping in tonight.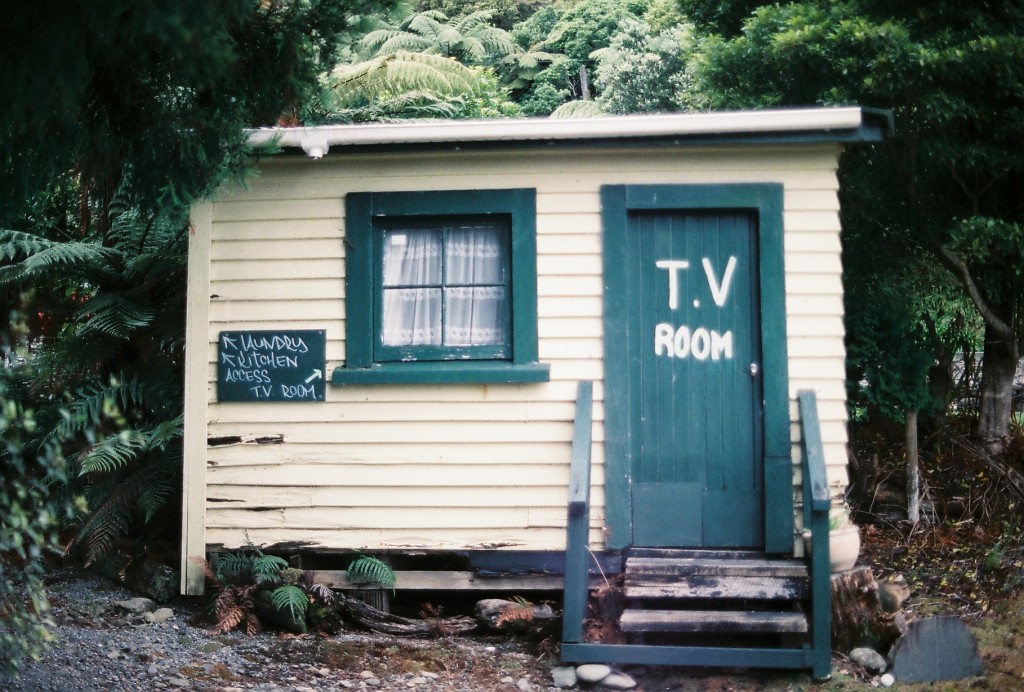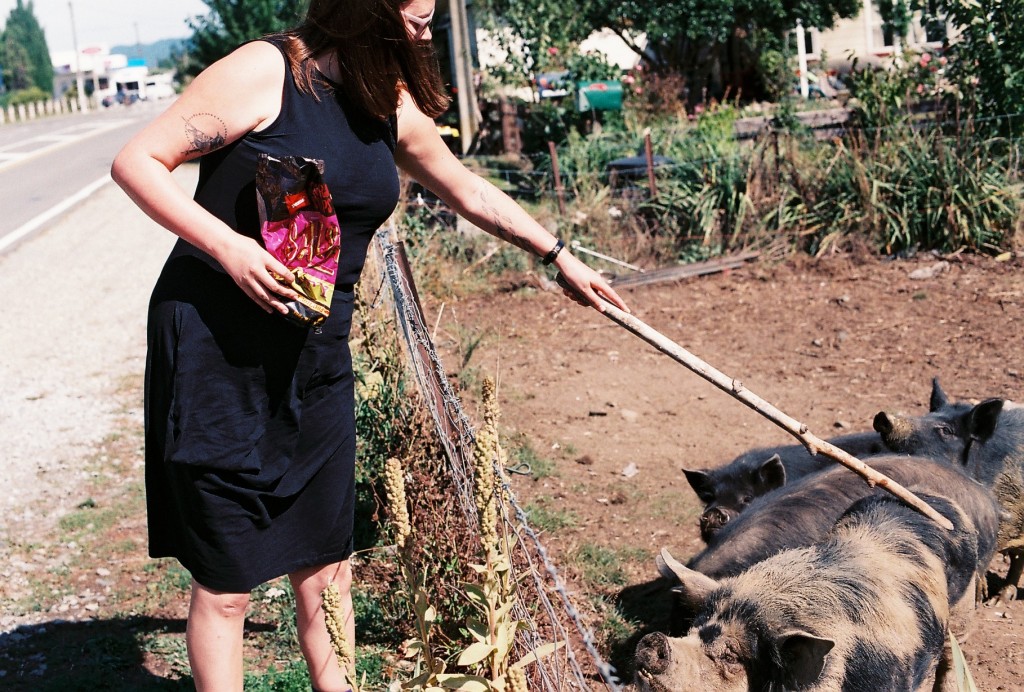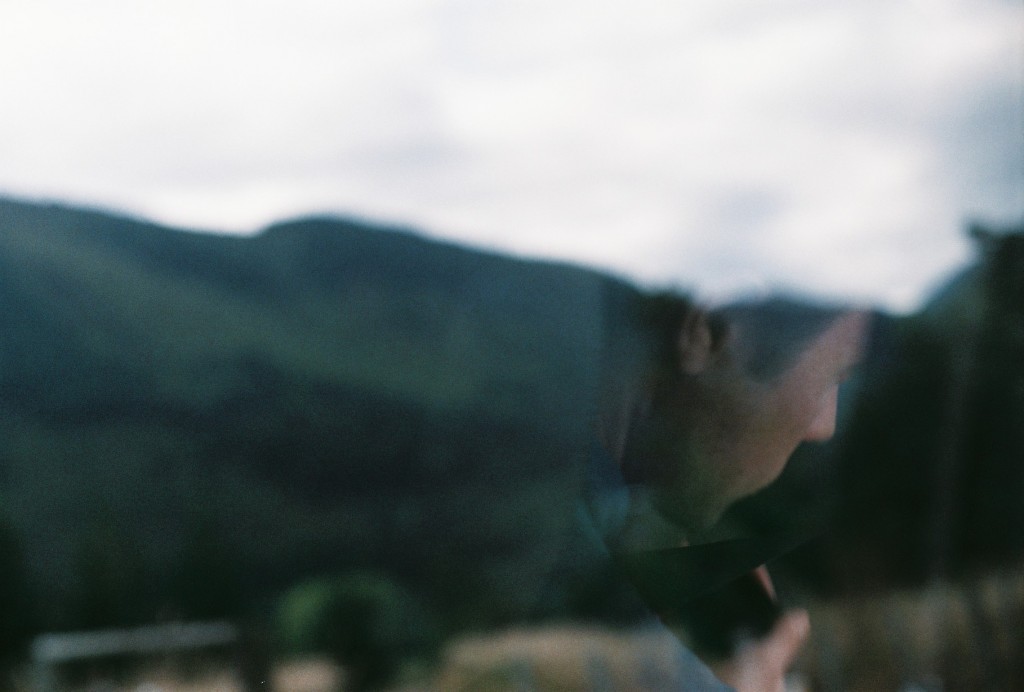 Day 10. NELSON
The staff have communal breakfast at 11am, large trays of pizza bread is served, with carafes of juice and if you want a latte the machine is on. They've made some kind of utopia here. Some Woofers arrive to harvest hops in the field behind the house. Apparently the methods and recipe employed for the brew here is the very one Captain Cook first brewed on NZ soil, flavoured with the tips of the Manuka bush. I follow them out and ask to join in. There's something extremely cathartic about this work, picking the green bulbs off the stems and throwing them in the basket for sorting, everyone telling stories from their travels. The conversation flows easy and I'm sad when it's time to go.
Back towards the mountain you can see the road zedding itself up it like a Zoro slash. I ask Anthonie about his song Water Underground. Nadia and I have starting joining him on it each night for backing vocals. He does an monologue to get the crowd in the mood for singing along too, and it's all a bit rousing.
"The Canterbury Plains on the east coast of the south Island is a really dry area and until the 1980s it was all sheep farming. You can do that on very sparse grass. But in 1984 we took off the subsidies on sheep farming and the industry went bust. Then in the 90s and 2000s dairy farming became really profitable. So when National got in…they've always been the pro farming party…there was a lot of dairy on the Canterbury Plains but it was all through irrigation. You've gotta get it from this big aqueduct underneath Canterbury and Christchurch. Every region and province has a Environment Council, an elected body who make environmental decisions, and grant consent of new irrigation projects. But they weren't giving much consent because their science advisers said it's dangerous, you're destroying the aquifer and destroying the drylands. It's where the jewelled gecko lives. They were getting further up the hill and turning it all green. National's whole plan when they got in to grow the economy was to triple dairy production. They wanted more water. So this brilliant minister Nick Smith, who was an incredible politician played this game… it was just after the earthquakes so everyone was distracted by something much bigger. He started issuing press releases that the Environment Council was dysfunctional. So then he hired Wyatt Creech who's a former National Party minister but also someone who's been convicted of environmentally hazardous practices on his own farm.  He led a report on the Environmental Council and his damning finding was that they 'led a science-led rather than science-informed' approach which basically undermined them and got them all sacked. They appointed new commissioners and they're all still there 6 years later. Meanwhile the rivers have become completely fucked, they're unswimmable. But the whole area is completely green. They pulled it off, a political masterstroke."
Now that's just the explanation for one song!
Down again and further along into Nelson. We're playing in a local cafe and once again get spoiled for food and drinks.
Tonight I play second after Nadia, but I'm sensing a disconnection with the crowd. Nadia tells a table of ladies chatting right in front of me to be quiet. It's not that they're all inattentive though, sometimes you just feel like a fraud.
After the show we get to our lodgings late and just as I remark to Anthonie how quiet this place is for a hostel a wide assortment of Europeans turn up drunk and ready to party.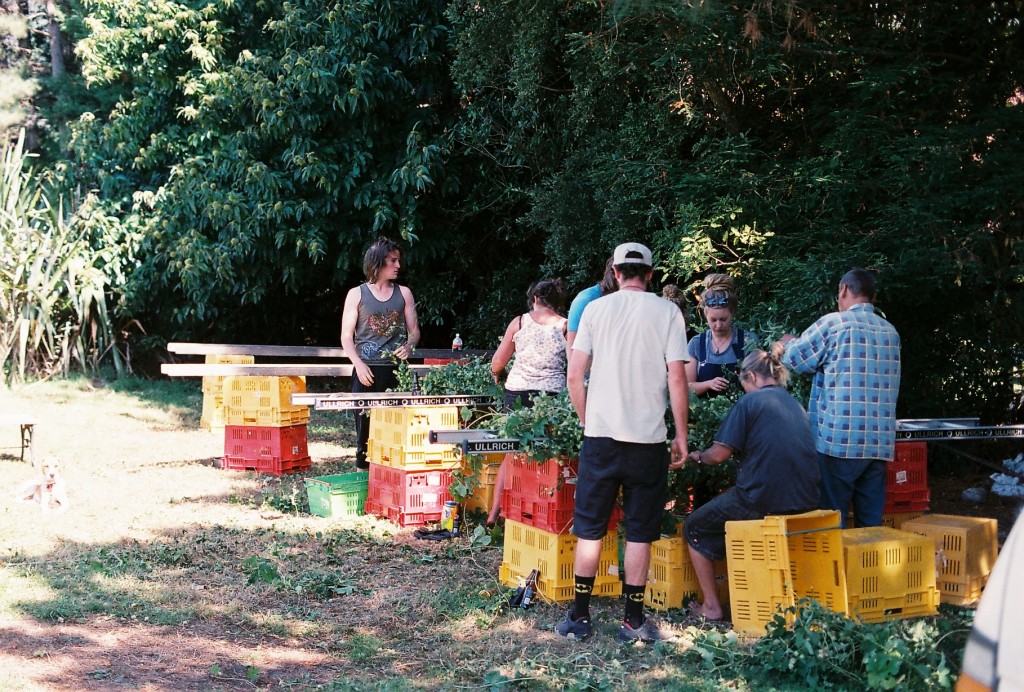 Day 11. AUCKLAND
5am alarm. I haven't slept and feel like 8 miles of bad road. Anthonie says he heard me snoring but I think it a trick to make me feel like I had.  At the airport I'm one step away from crying from exhaustion. Anthonie is sitting in the lounge already working on his computer, dressed to kill, hair slicked back, composed. The guy is a machine! Like one of those Matrix agents. Nadia is taking great delight in freaking me out about the size of the plane, or lack of it, and how rough it's gonna be.
I get through the morning on a shoestring of energy, it's all a blur in my mind. Landing, car pickup, Radio interview.  Anthonie drives me back to the bottom floor apartment of a handsome estate home he shares with his wife Karlya. They leave me there to take a nap in their bed. There's construction next door but it's of no consequence, I'm out like a light.
I'm awoken from heavy violent dreams about old friends I haven't seen in years flinging themselves all around me, I'm trying to to catch them to slow them down. My brain feels like molasses and I'm not exactly sure what I'm supposed to be doing. Anthonie has just come back with a sandwich for me. He flicks on the National Radio out in the kitchen and the sound of Nadia singing live-to-air floats in to me. Gee it sounds beautiful; her pure damn voice. I think I just said that out loud. It's both familiar and soothing within the opaque world I'm currently swimming through. Anthonie takes one look at me and insists he do the soundcheck alone, I should rest.
So I recuperate incrementally and later in the afternoon decide to take a leisurely walk to the venue, through the back streets of Herne Bay, up to Ponsonby Rd which joins K Rd. Stop in at the Wine Cellar to see if the Tales From the Crypt pinball is still there. It is and I leave a Grand Champion score on it first game. TCB!
Down over the Freeway and I find the Kings Arms.  A great crowd for these guys, a home game for Anthonie, I'm proud to be a part of it. Tonight Nadia has her guitarist Sam accompany her and it's nice to hear his harmonies and extra melodies. His playing is unusual and well-serving although I can tell he's improvising.
Anthonie should have a night alone with his wife so ask the venue if I can sleep there on one of the bench seats. No go. Nadia offers a couch at her Dad's place so I drive out there with her to find it all made up and waiting for me.
(Here's some great photos of the show taken by Jasper Rain)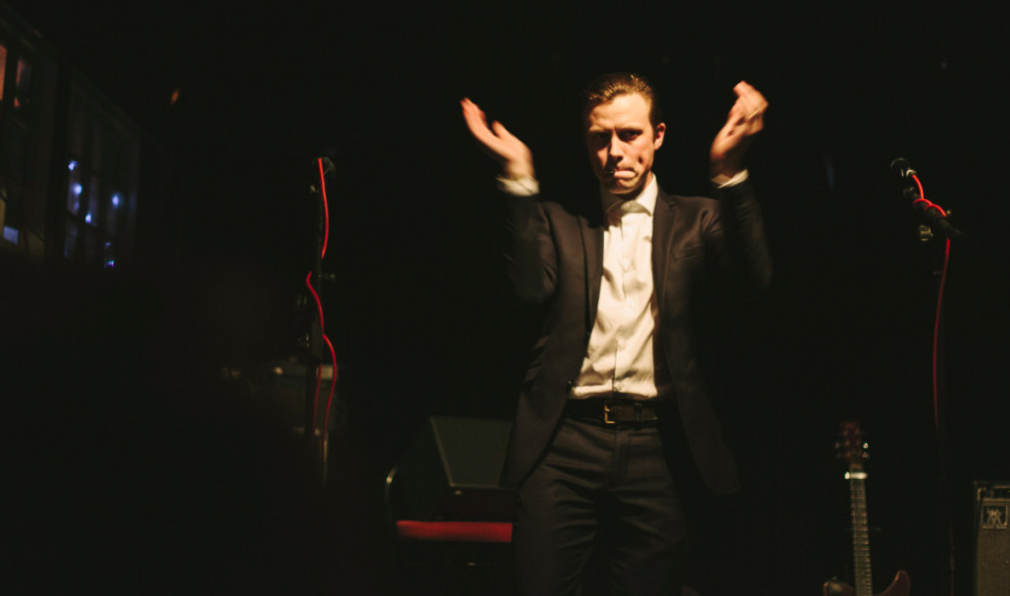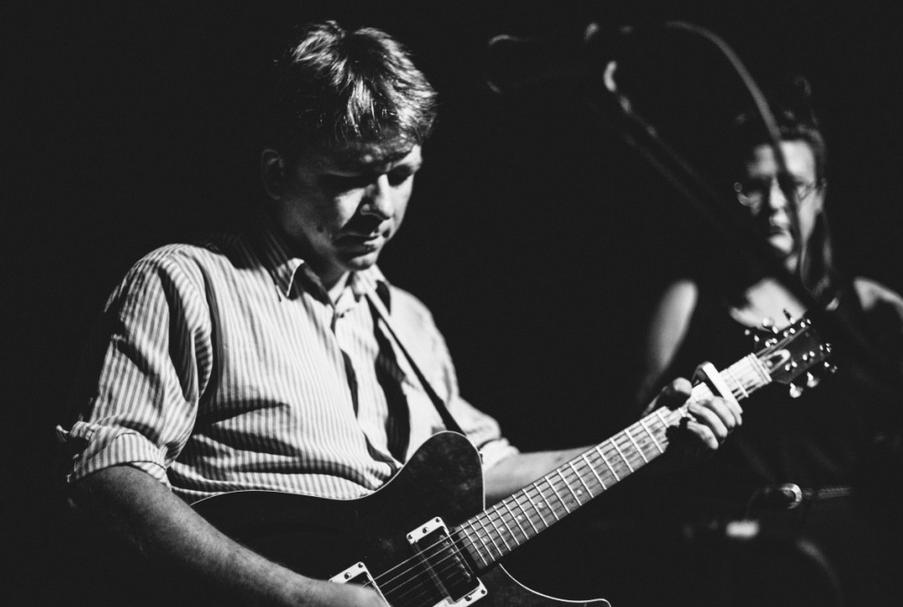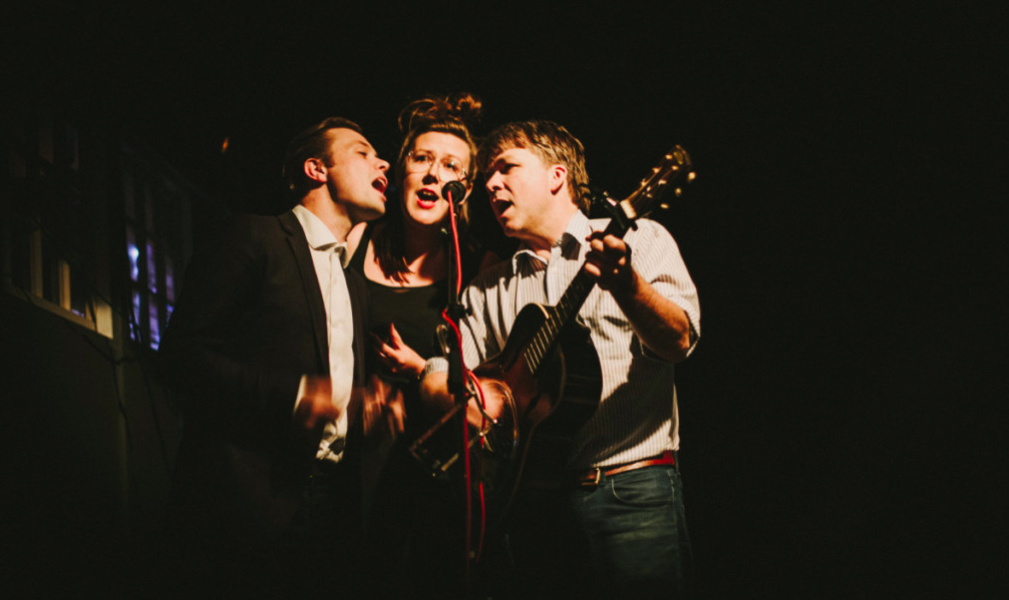 Day 12. WELLINGTON
I'm a creature of habit and so walk to the only places I know in Wellington. First the film archive, I sit with a coffee at a computer with headphones and watch some kiwi music videos: The Clean, the Bats, etc. DD Smash are the new revelation for me. It's Dave Dobbyn's first band and the song Outlook for Thursday is an instant 80s brain worm.
Next down to Pegasus bookshop off the mall, find two more copies of Man Alone and buy them both for pushing on literary friends. One has classic cover art of an old worn holey woolen sock with the NZ flag showing through.  It makes me recall the shuttle bus ride from the airport this morning.  Anthonie pointed out exclaiming, "There's the Silver Fern flag! That's the one we're in danger of ending up with"
I'm vaguely aware of the referendum coming up to replace the one.
"It looks like a Wheat Bix logo," says Nadia.
"Is that really what people want?" I ask them.
"A lot of my left wing friends hate the idea of a new flag, probably because John Key suggested it. The Nationals run their government like a business in Dilbert. They crowdsourced for free ideas on the new flag. One design that came back was a kiwi with lasers shooting out of its eyes.  Then they appointed a panel which included business leaders, marketing houses, and the brains behind most of our reality TV shows, but no designers, no vexillologists, and no members of the arts community."
I made a mental note to look up the word 'vexillologist.'

Tonight at Meow it's the biggest, most enthusiastic crowd yet, and knowing it's all over soon I stand back and watch my two companions with a concentrated affection. What a thoughtful and meticulous performer Anthonie Tonnon is; part Methodist Minister, part New Wave pop style-meister, but mostly a pure-souled human. A textbook brain, a poets eye and a pop musicians heart. He takes his craft seriously in the way David Byrne does I imagine.
Nadia starts tonight with her song about Port Chalmers, that little shipping village way below us where her Mum lives up in the cottage on the hill wishing the world for her talented daughter who's songs are starting to take her off to the far-flung places and new people who want to hear them. She'll leave for her first trip to Europe soon after this.
There is one main street in this town
There are two straight lines in my head
Some people use vibrato like you're driving over a cattle grid. Nadia's is more like a soul massage. I watch and listen and try not to overthink the ingredients that make her up, and instead let her voice and songs weave and wash over me like a crocheted blanket.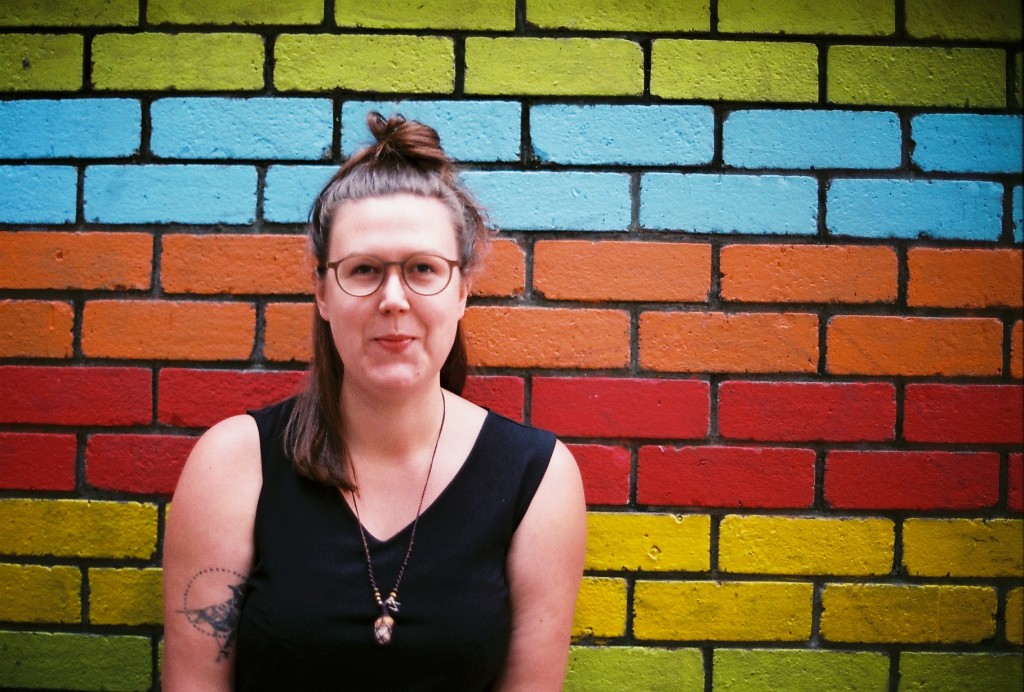 Day 13. NAPIER
A slight hangover this morning.
"You were funny last night," says Nadia teasing me again, "you really loosened up."
"Are you saying I've been uptight the rest of the time?"
"Yeah, pretty much."
"Great, thanks."
"You kept calling me a Princess."
"Well you were asking Anthonie if there was a face washer where we're staying. That sounds like Princess to me."
We've woken up at Anthonie's in-laws, and his Mum over tea and a bowl of yoghurt shows me her daughter Karlya's weekly fashion page in the National Newspaper's magazine lift-out. They're loaning us their family station wagon for the drive. Anthonie is slightly nervous about returning it in one piece, especially after getting it locked in what we thought was a 24hr carpark last night. He had to go there in the hope that someone would leave so he might roll under the gate Indiana Jones style.
It's our last roadtrip. A couple of hours in and we're all craving coffee and it comes up that Anthonie knows the guy who invented the Flat White, he met him drunk in The Golden Dawn, the bar he tends between tours.
"He said he was working in Cafe Bodega in Wellington in the early 80s. Only two cafes in Wellington had these brand new Italian Espresso machines. People were fizzing about them, they were becoming quite popular. But at that time you could only get two kinds of coffee, an Espresso or a Cappuccino.  Those days were before they knew how to store the milk and fiddle with the cows to make sure there was fat in the milk year round. In autumn when the cows were off the teat there was no fat in the milk. So he was at this cafe making coffee and everyone's ordering Cappuccinos, but he couldn't get any foam out of the milk when there's no fat in it. This one lady was getting upset so he just heated up the milk put it in the coffee and said there you go, that's a flat white."
"Really," I'll miss Anthonie's stories, he's like a more entertaining Google, " the name came right off the top of his head?"
"That's what he said," Anthonie confirms.
"And so now what about this debate that Australia reckons we invented it?" I ask.
"Rank milk," says Nadia.
As we come into Woodville Anthonie remembers good coffee can be found at a cafe called Yummy Mummy's. It also sells award winning cheesecakes.  Nadia is amused by a laminated glamour photo in the toilets of the owner and her family with an accompanying uplifting story of their plight to overcome adversity in the quest to make the perfect cheesecake. She makes me go read it and it starts with: "Few people realise their true passion in their lifetimes…" and ends with "…are just beginning their dream of creating the best cheesecake experience you are ever likely to find." I get ideas for a feature film.
I find an op shop selling boxes of good country music CDs for $5 each, just in time for our last hour of driving. I buy some early Emmy Lou Harris albums and Nadia gets two Iris Dement ones.
We play both of those in a row.
"Iris Dement was very important to me," she says, "A friend took me to see her in Wellington years ago and I was blown away. Made me think about writing songs differently."
I make her play Let the Mystery Be twice, it's so perfect.
And that takes us into Napier. The show is a private one in the house of local promoter Jamie McPhail.  He's converted his garage into a cozy venue with photos on the wall of previous shows: The Handsome Family. Marlon Williams etc. I go for one last little soul stroll to the beach so I can tick off both coasts, sit and watch a massive log washed up lolling in the waves.
By the time we go on people have arrived bearing plates of food and it's filled to capacity. During my set I feel bad for a lady in the front row who's trying not to cough, she goes to fish out a lozenge from her bag the moment I start Halley's Comet, my quietest and longest song.  She's trying to rummage so silently it looks like she's moving in slow motion.
Princess Reid gets the master bedroom while Anthonie and I sleep out in the venue. He's getting all his things in order and playing me Youtube clips of more NZ bands I should hear: Don McGlashan, Delaney Davidson. I go to sleep to the sound of him gently packing.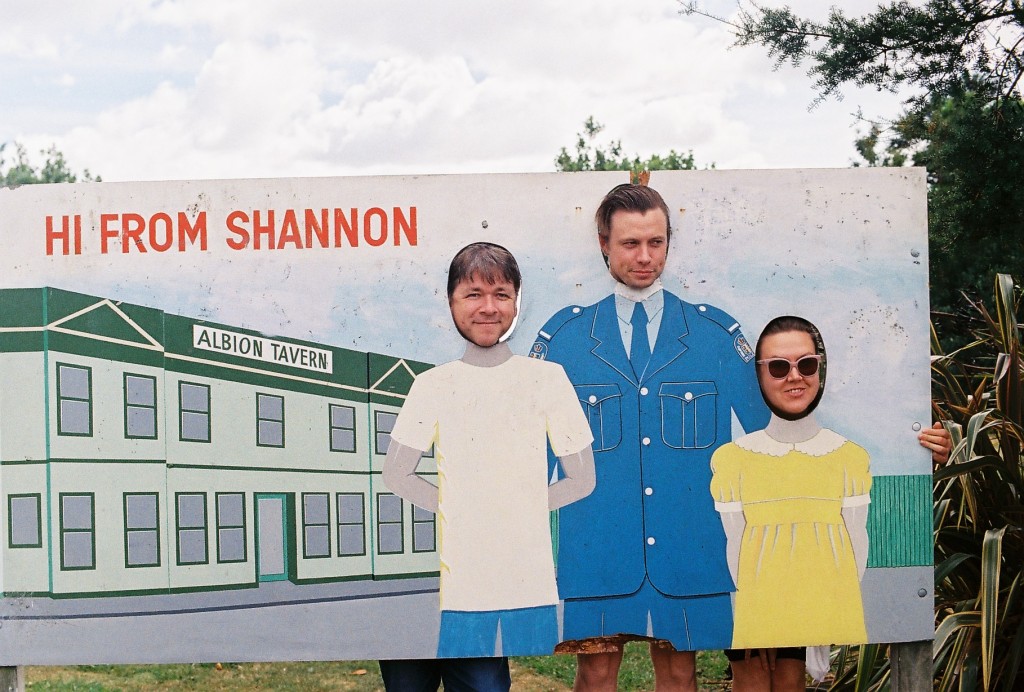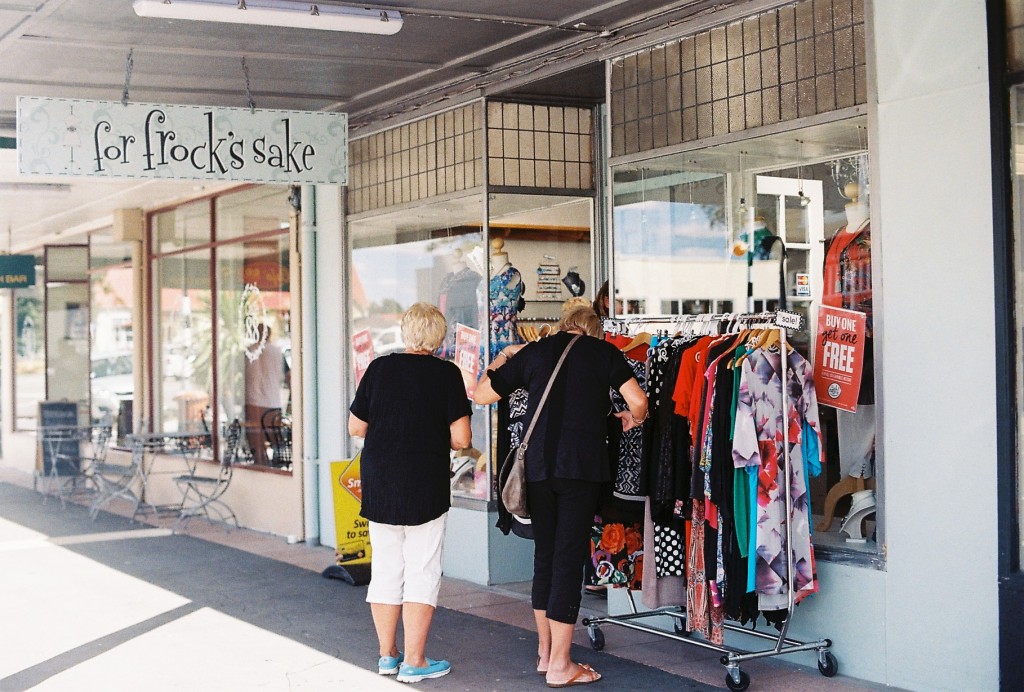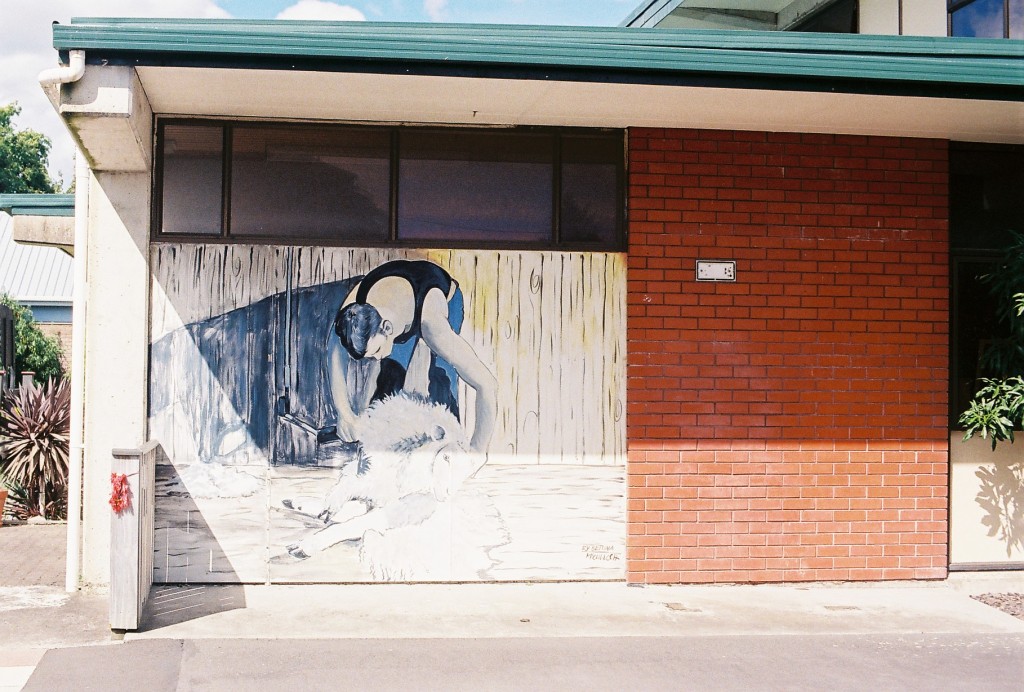 Day 14. FAREWELL
When I wake on the floor mattress Anthonie is up already and still packing. Seriously, I don't know what he has left to do but it's taken him about three hours total. I usually throw handfuls of stuff in a backpack half an hour before the plane leaves. I'm still trying to learn from him and time has run out.
We three hug in the driveway and then they're off, back to Wellington to get their own flights. I get a pang of missing them already as I walk back inside to collect my own bag. It's bittersweet these little intense families we make and break on our journeys as touring musicians.
Back in Auckland I take the same bus and pounce on the driver the first whiff I get of Mt Eden.  I find Jenna sitting upstairs at Time Out Books and she hands me my belongings she's kept safe. I thank her for the Man Alone book and tell her I'm now reading Roland Hugh Morrison.
"Oh yeah, classic," she said, "He's from Hawera. He lived in the same house all his life with his mother. And it was just pulled down to put up a KFC!"
"Ya kidding!" It reminded me of going in search of Henry Lawson's house years back in Bourke, only to find a brand new IGA on the site.
"There was a movement to have it preserved so they put it to referendum," Lisa explains, "The people voted for the KFC."